Mishandling Classified Information
February 1, 2023 by Sante Mastriana
---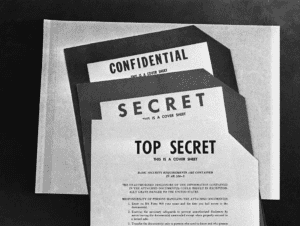 The handling of sensitive information has become a headline-grabbing issue in recent months owed to the discovery of classified documents at the homes and offices of former President Donald Trump, President Joe Biden, and former Vice President Mike Pence. The political consequences of any judgment of wrongdoing on behalf of former President Trump, President Biden, and/or former Vice President Pence have introduced significant controversy into the national discussion of this issue. In light of this controversy, Attorney General Merrick Garland has established a special prosecutor for the Trump and Biden cases, who will work independently of the Department of Justice to determine whether any criminal conduct took place. Although a special prosecutor has not yet been appointed to investigate the Pence case, many experts see this as highly likely.1
What Are the Government Rules for Classified Material?
According to the President Records Act of 1978, former presidents and vice presidents have the responsibility to surrender all records into the legal custody of the National Archives. (It is important to note that the documents in question in the Biden case stem from his time as vice president, 2009-2017, and not from his current term as president.) Sometimes, classified documents are found to be missing by the National Archives; the Archives will then request the documents' return within a certain timeframe.2 When this is properly done, there is usually no need for investigation.
Separate from executive branch records are classified documents and materials. Information is designated as classified when it has been determined that its release could represent an immediate threat to the national security of the United States. Classified materials range in the level of security clearance necessary to view and handle them, ranging from the lowest, "confidential," to "secret," to the highest level, "top secret." All classified material is clearly marked and labeled with its security clearance level. Key to understanding the controversy in the Trump, Biden, and Pence cases is that no individual, regardless of security clearance or the office they hold, is permitted to hold classified material at a private residence.3
What Are the Trump, Biden, and Pence Cases?
On May 6, 2021, the National Archives requested that former President Trump return missing documents from his time in office. After multiple requests were made, a Trump representative told the National Archives in December 2021 they had located 12 boxes of materials at former President Trump's Mar-a-Lago residence, which the National Archives then arranged to be returned (15 boxes were ultimately picked up by National Archives officials). These boxes contained both presidential records and 184 classified documents. There were still missing materials after this process was completed. The materials were referred to the FBI for further investigation. Over the course of the summer of 2022, the FBI continued its investigation and obtained a warrant to search former President Trump's residence and home office. An additional 13 boxes containing over 100 classified materials were recovered.4 A special prosecutor was appointed on November 18, 2022, to conduct an investigation of criminal activity, which remains ongoing.5
Many Republicans accused the investigation of being politically motivated, part of an effort by the Biden administration to discredit Trump's 2024 presidential campaign.6 President Biden and his administration were highly critical of former President Trump's alleged lack of cooperation with the National Archives' requests and his handling of classified material.7 However, on November 2, 2022, ten classified documents were discovered in President Biden's former office at the Penn Biden Center in Washington, D.C., and reported to the National Archives.8 President Biden's lawyers began a review of his personal records and discovered more classified materials. On December 20, a second set of classified documents was discovered in the garage of the president's private residence in Wilmington, Delaware. Additional classified materials were found in an adjacent room on January 14, 2023.9 Thus far, approximately 20 classified documents have been recovered from President Biden's office and home.10 A special prosecutor was appointed to investigate the case on January 13, 2023.
On January 16, 2023, former Vice President Pence instructed his lawyers to review his own documents for classified materials. A "small number of documents that could potentially contain sensitive or classified information" were discovered and given to FBI agents on January 19. Four boxes of documents containing "copies of Administrative papers" from Pence's residence were brought to the attention of the National Archives by Pence's lawyer and delivered to the Archives on January 23.11
The Special Prosecutor Controversy
Attorney General Garland argues that he appointed special prosecutors in the Trump and Biden cases in accordance with the rule of law, saying, "We do not have different rules for Democrats or Republicans."12 Some Democrats have criticized Garland's decision for equating the Trump and Biden cases by appointing a special prosecutor. They argue that the far greater number of documents discovered in the Trump case, along with the former president's failure to cooperate with records requests, represents a much higher likelihood of criminal activity than the Biden case. However, at least part of Garland's decision-making has been tied to the fact that both Trump and Biden are likely presidential candidates in 2024 (Trump has officially announced his campaign, Biden has yet to do so).13
With revelations of classified materials and records being discovered at former Vice President Pence's residence, questions have emerged about whether Attorney General Garland will appoint a third special prosecutor to investigate given speculation that Pence is also interested in running for president in 2024. At the same time, Garland has begun to receive criticism from both Democrats and Republicans that an overreliance on special prosecutors undermines the Department of Justice's authority and raises questions as to how well the Department can be relied on to carry out its responsibilities on its own.14
Discussion Questions
How would you compare the seriousness of the Trump, Biden, and Pence cases?
Do you agree with Attorney General Garland's reasoning that the Trump and Biden cases deserve the same level of scrutiny? Or do you feel one case is more deserving of a special prosecutor's investigation than the other?
These cases are not the first time that improperly secured classified information has weighed into a presidential race. Famously, former Secretary of State Hillary Clinton faced an investigation into her handling of classified information on a private internet server in her home during her campaign for president in 2016. Ultimately, FBI Director James Comey publicly acknowledged fault on the part of Secretary Clinton but declined to recommend prosecution largely due to the absence of clear intent to improperly handle the information. Do you feel the same reasoning could or should apply to the Trump, Biden, and/or Pence cases?
Related Posts
Executive Privilege and the Supreme Court
Summer Roundup: Back to School with the Supreme Court, the Midterms, and the Search of Mar-a-Lago
As always, we encourage you to join the discussion with your comments or questions below.
Sources
[1] https://www.yahoo.com/entertainment/pence-special-counsel-more-likely-020321500.html
[2] https://www.archives.gov/presidential-libraries/laws/1978-act.html#:~:text=The%20Presidential%20Records%20Act%20(PRA,beginning%20with%20the%20Reagan%20Administration).
[3] https://www.archives.gov/isoo/faqs#what-is-cnss
[4] https://www.cbsnews.com/news/trump-search-timeline-mar-a-lago-justice-department/
[5] https://www.politico.com/news/2022/11/18/garland-to-appoint-special-counsel-for-trump-criminal-probes-00069451
[6] https://apnews.com/article/donald-trump-presidential-elections-mar-a-lago-election-2020-congress-cfcdf3bccd5bd8c008248b19ab299044
[7] https://www.usatoday.com/story/opinion/columnist/2023/01/10/biden-classified-documents-double-standard-trump/11022762002/
[8] https://www.nationalreview.com/the-morning-jolt/who-ordered-the-review-of-papers-at-the-penn-biden-center/
[9] https://www.nytimes.com/2023/01/12/us/politics/biden-documents-timeline.html
[10] https://www.cbsnews.com/news/total-number-of-biden-documents-known-to-be-marked-classified/
[11] https://www.yahoo.com/lifestyle/timeline-were-pence-classified-documents-200959463.html
[12] https://www.nbcnews.com/politics/justice-department/garland-defends-handling-trump-biden-special-counsel-probes-rcna67116
[13] https://thehill.com/opinion/judiciary/3821283-merrick-garlands-special-counsel-conundrum/
[14] https://www.cnn.com/2023/01/26/politics/mike-pence-merrick-garland/index.html