Despite White House Push for Updated COVID-19 Boosters, Americans Are Slow to Roll Up Their Sleeves
October 18, 2022 by Rebecca Lewis
---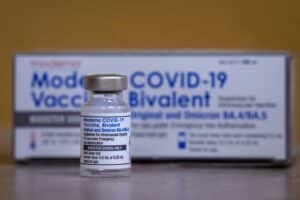 Last Wednesday, the Food and Drug Administration expanded eligibility for updated COVID-19 booster shots to include children as young as five. Prior to this announcement, the revised Pfizer vaccine was restricted to those 12 and older and the Moderna vaccine was restricted to those 18 and older.1
These updated booster shots address the BA.4 and BA.5 subvariants of the omicron variant that first appeared in November 2021. They also address the original strain of the COVID-19 virus and have been shown to be highly effective in combating the worst effects of the virus. While widespread vaccination continues to be a critical element in White House efforts to combat the pandemic, many Americans young and old have not received all of the booster shots recommended to them.
The updated booster shots have had a slow uptake nationally among both adults and children, proving to be a significant challenge to the pandemic strategy of President Joe Biden's administration. The administration continues to grapple with dwindling public interest and shrinking funding for the pandemic response.
While the initial vaccines were highly sought after and widely distributed, successive boosters have received significantly less public interest. Of the 226 million Americans who completed the initial round of vaccination, only about half received at least one booster shot. Since the updated booster shots were authorized in August, only around 13 million Americans have received them.2 This may be in large part because Americans are unaware of the existence of this revised booster. According to one survey, half of adults said they had heard little or nothing about the new booster shots.3
Many families are particularly hesitant to vaccinate their children against COVID-19. According to the Centers for Disease Control and Prevention, only about a third of children aged 5-11 have received an initial round of vaccination.4 Within that group, only about 16 percent of children received the original booster shot, which became available to them in May.5 Public health officials are working to increase this number and to encourage parents to vaccinate their children with the revised booster.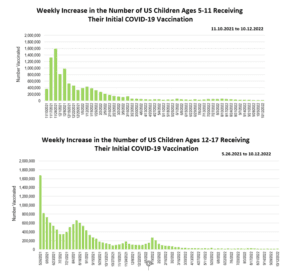 The Biden administration has prioritized vaccination amidst its struggle to secure funding for the continued fight against COVID-19. This summer, the administration requested that Congress allocate billions of dollars to pay for more vaccines, testing, therapeutics, and research to combat future variants.6
In March, House Democrats dropped a COVID-19 aid package from a broader spending package to fund the government after some in their caucus disagreed with plans to pay for it by redirecting money set aside for some state governments to address their pandemic needs as part of the American Rescue Plan. A few weeks later, a smaller bipartisan deal came together in the Senate, but it ultimately collapsed when Republicans insisted the chamber vote on keeping pandemic border restrictions in place.7
To date, Congress has been unable to pass a new pandemic relief package. White House officials instead decided to repurpose federal COVID-19 funds meant for tests and protective equipment in order to supply more vaccines and antiviral pills.8 Around $10 billion in funds from the Department of Health and Human Services was rerouted, and about half of it was used to purchase vaccines for Americans ahead of a possible winter wave of virus cases. These reallocated funds were used to buy over 170 million doses of COVID-19 vaccine—enough to vaccinate most of the roughly 225 million Americans who have had an initial round of vaccination.9 Despite the Biden administration pouring resources into vaccination efforts, whether Americans will respond by rolling up their sleeves remains to be seen.
Discussion Questions
What are some additional reasons that Americans who received the initial COVID-19 vaccine might not be getting the booster and updated booster shots?
Given the low fatality rates among children, should the federal government prioritize efforts to get children vaccinated and boosted? If not, which groups should it prioritize and why?
Do you support increased spending on vaccination efforts? Why or why not?
As always, we encourage you to join the discussion with your comments or questions below.
Sources
[1] Center for Disease Control and Prevention: https://www.cdc.gov/media/releases/2022/s1012-COVID-19-Vaccines.html
[2] New York Times: https://www.nytimes.com/2022/10/15/us/politics/covid-booster-shots.html
[3] New York Times: https://www.nytimes.com/2022/09/30/health/omicron-booster-covid.html
[4] American Academy of Pediatrics: https://www.aap.org/en/pages/2019-novel-coronavirus-covid-19-infections/children-and-covid-19-vaccination-trends
[5] New York Times: https://www.nytimes.com/2022/10/12/us/politics/covid-booster-shots-kids.html
[6] CBS News: https://www.cbsnews.com/news/covid-vaccines-updated-boosters-new-ad-campaign-biden-administration/
[7] Washington Post: https://www.washingtonpost.com/politics/2022/09/20/gop-balks-covid-funding-after-biden-declares-pandemic-is-over/
[8] New York Times: https://www.nytimes.com/2022/06/08/us/politics/vaccines-white-house-funding.html
[9] New York Times: https://www.nytimes.com/2022/10/15/us/politics/covid-booster-shots.html