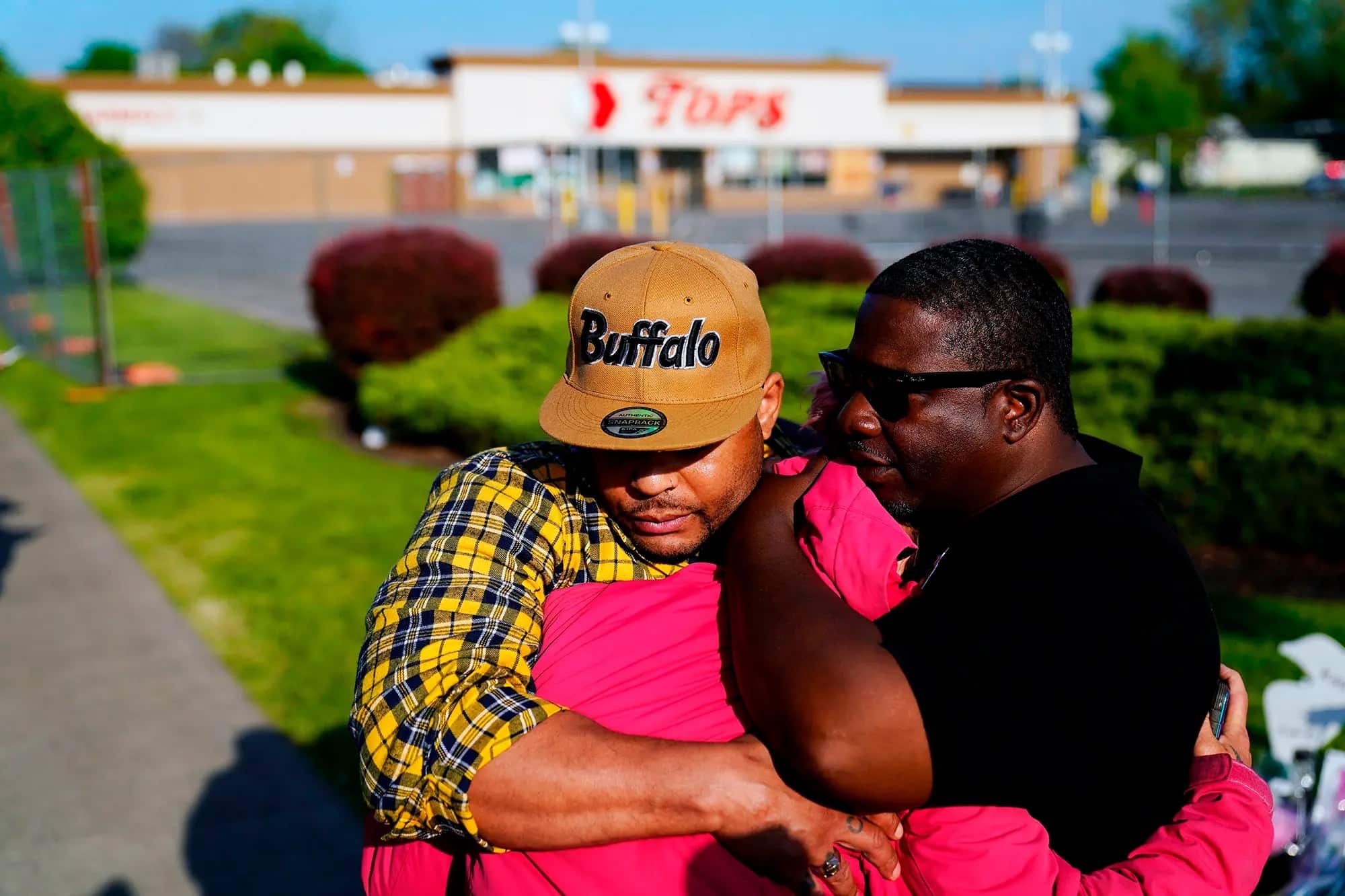 On Saturday, May 14, a gunman killed 10 people and wounded three others in a supermarket serving a predominantly Black population in eastern Buffalo, New York. The shooter, an 18-year-old white man, traveled over 200 miles to the Tops Supermarket.1 He was the apparent author of an online screed that claims the attack was meant to threaten non-white, non-Christian people into leaving the United States. "The diatribe resounds with white supremacist, anti-immigrant, and antisemitic beliefs that reflect an increasingly prominent conspiracy theory about a plot to reduce white people's global influence by 'replacing' them."2 The gunman who killed 51 people at two mosques in New Zealand also promoted this theory.3
The shooting was live-streamed over the social media platform Twitch, though the stream was interrupted and the video was removed less than two minutes after the violence began.4 In the week before the shooting in Buffalo, three Asian American women were injured in a shooting in the Koreatown neighborhood of Dallas, Texas. That city also reported two other recent shootings at businesses owned by Asian Americans, and officials believe the shootings may be connected.5
Horrific events such as these call on teachers and schools to do many things. First, teachers must attend to the anger, fear, and desperation of their students, and they must attend to their own emotional and mental health needs as well. Our friends at Facing History and Ourselves offer important resources for teachers in their resource, Teaching in the Wake of Violence.
In addition to addressing the emotional needs of students, schools must attend to these questions as matters of public policy. Citizens must engage in civil dialogue around the many issues raised by the tragedy. Obviously, one policy issue that is relevant is gun control. In the shooting in Buffalo, the perpetrator used weapons that were legal to purchase in the state of New York but modified them with extended magazines that cannot be legally purchased in that state. This raises questions about the role of the federal government.
Another issue that some public officials have raised is the role of social media in spreading hate. New York state authorities launched an investigation into several social media platforms that the shooter may have used to plan and broadcast the attack. The inquiry is primarily focusing on Twitch (a video streaming service owned by Amazon), online messaging boards such as 4chan and 8chan, and the chat site Discord. "This terror attack again revealed the depths and dangers of these platforms that spread and promote hate without consequence," said New York Attorney General Letitia James.6
New York Governor Kathy Hochul also called on social media companies to monitor their content more closely. "The fact that … this execution of innocent human beings could be live-streamed on social media platforms and not taken down with in a second says to me that there is a responsibility out there," she said.7 Debates over the role of government in regulating social media companies, and over whether social media platforms can be held responsible for their content, continue to escalate.
Related Posts
Discussion Questions
How are you feeling and responding to these events?
What more do you know or want to know about these events?
Do you think that elected officials should seek to regulate online speech? Why or why not?
Would you support additional gun control measures? Why or why not?
How can communities and individuals combat the kind of hate and intolerance on display in Buffalo and Dallas?
As always, we encourage you to join the discussion with your comments or questions below.
Sources
[1] Associated Press: https://apnews.com/article/buffalo-supermarket-shooting-442c6d97a073f39f99d006dbba40f64b
[2] ABC News: https://abcnews.go.com/US/wireStory/buffalo-supermarket-shooting-84813182
[3] National Public Radio: https://www.npr.org/2022/05/15/1099028397/buffalo-shooting-what-we-know
[4] BBC News: https://www.bbc.com/news/world-us-canada-61502238
[5] Associated Press: https://apnews.com/article/crime-shootings-dallas-hate-crimes-201e2dbce94bdd6329e0df6d02b39ca1
[6] Reuters: https://www.reuters.com/world/us/new-york-ag-investigate-social-media-platforms-used-by-buffalo-grocery-gunman-2022-05-18/
[7] CBS News: https://www.cbsnews.com/newyork/news/buffalo-shooting-live-stream-twitch/