Young Americans' Views on Politics and Political Engagement
October 5, 2023 by Scot Wilson
---
Last week, we introduced the results of American University's Reimagining the American Dream Survey, conducted in partnership with Close Up, the Generation Lab, and the Millennial Action Project.
The survey explored "what the American Dream actually means for young Americans, who are trying to sort through the churning dynamics shaping their lives, including: spiraling technological innovation, major economic transitions, changing attitudes about social justice, and what constitutes a good, or 'successful,' life after a devastating global pandemic with profound impacts on their physical and mental health, the extent of which is still unknown."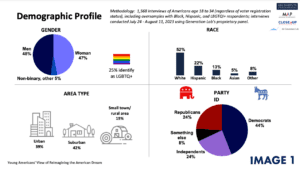 This week, we are examining what the results tell us about young Americans' views of politics, political engagement, and civic life. One key finding is that youth involvement in politics includes a wide variety of activities like voting, signing petitions, volunteering for service organizations, and staying informed about issues.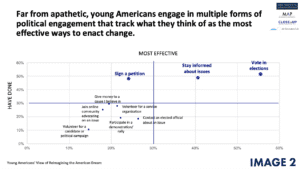 The findings of this youth civic engagement survey also show how young people think about what they want from political action. In the image nearby (Image 2), we see which forms of political engagement are most effective. This shows that many respondents did not believe that working on a campaign, participating in demonstrations and rallies, or contacting elected officials are likely to be effective. However, they largely believe that voting in elections is effective.
What's more, young people say that being effective and having an impact is the most important priority when they think about taking political action. They also view helping people and creating social and political change as highly important.
One piece of data that stands out in this survey is that young people do not rank convenience, ease, or the ability to do the work online as high priorities. These findings cut against a common narrative or stereotype about young people, that they will take action only if it is easy or can be done through social media.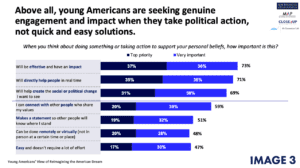 Finally, the findings of this youth civic engagement survey show that young people have a clear agenda for political leaders. Topping the list of priorities is ensuring a healthy environment, offering quality education for all, and making higher education more affordable.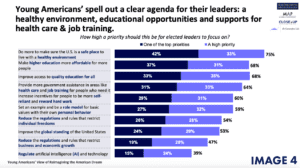 In next week's blog post, we will look at the results of this survey one more time—to see what young Americans are saying about the 2024 presidential election.
Discussion Questions
What political activities do you think are most effective? How do your responses match the views of young Americans in this survey (see Image 2)?
What political activities, if any, have you engaged in? Why did you do those things in the past? What political activities could you see yourself participating in in the future?
What do you want from your political engagement? How do your priorities match the survey respondents' answers (see Image 3)?
What issues are most important to you? How do your priorities match the survey respondents' answers (see Image 4)?
As always, we encourage you to join the discussion with your comments or questions below.
Sources