What Do "Defund the Police" and "Police Abolition" Mean? And What Do They Not Mean?
February 22, 2023 by Jacob Israel Chilton
---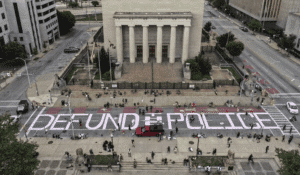 Following the 2020 murder of George Floyd by Minneapolis police officer Derek Chauvin, a call by activists to "defund the police" achieved national attention. Supporters of defunding the police have argued that—at least some of—the billions of dollars spent on policing each year could be better used by investing in educational, recreational, and mental health programs, among others, in an effort to reduce crime and increase community well-being more generally. With the release of footage showing multiple officers pepper-spraying, kicking, and punching Tyre Nichols—leading to his death three days later—questions of whether and how to reduce police budgets have been brought back into the national conversation.1
In order to understand this issue, it is important to define what defunding the police means and what it doesn't mean. Responding to the deaths of five Dallas police officers in a 2016 mass shooting, Dallas Police Chief David Brown said, "We're asking cops to do too much in this country. … Every societal failure, we put it off on the cops to solve. Not enough mental health funding, let the cops handle it. …Here in Dallas we got a loose dog problem; let's have the cops chase loose dogs. Schools fail, let's give it to the cops. … That's too much to ask. Policing was never meant to solve all those problems."2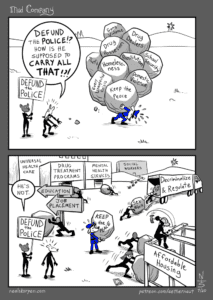 This is what many activists mean when they call for the police to be defunded. Reduce the number of responsibilities we ask of the police, decrease police budgets to match the reduced size of the police force, and use the diverted funds to invest in programs and staff who are trained to address mental health crises, struggling schools, and other social issues.
"Defund the police" does not mean "abolish the police." It means police would have a more limited, primarily peacekeeping role. But they would not be asked to take on other roles, like those mentioned by Chief Brown.
Defunding the police is not a brand-new movement. Activists have been calling to defund the police for nearly a decade—since at least 2014, following the death of Michael Brown at the hands of police in Ferguson, Missouri—but the slogan caught on much more broadly in 2020, even being echoed by some progressive members of Congress.3 While many Democratic Party leaders worried that the slogan was "divisive," members of the so-called "Squad," including Representatives Alexandria Ocasio-Cortez (D-N.Y.), Ilhan Omar (D-Minn.), and Rashida Tlaib (D-Mich.), expressed support for defunding the police. They were clear that they did not want only to cut police funding, but to redirect those taxpayer dollars into other social services.4
The movement to defund the police has also garnered opposition. Opponents of the idea believe it is unwise to call for reducing the size and budgets of police forces when crime has risen in some parts of the country in recent years. Opponents argue that such a policy could actually encourage crime by reducing the capacity of police forces. As Jacqueline Helfgott, a professor of criminal justice at Seattle University, wrote, "If we defund the police, those most affected will be the poor and the marginalized. Wealthy neighborhoods will hire private security as they are already doing, and poorer neighborhoods will have to fend for themselves even more than they already have to. Delays in police response and lack of police capacity will increase fear of crime, render victims of crime helpless, and wreak havoc on communities, especially communities of color, even more so than is already the case."5
Other political activists and commentators want to go beyond merely reducing the budgets and responsibilities of law enforcement and "abolish the police." In an interview following Nichols' death, police abolitionist Andrea Ritchie called for police to be phased out completely, beginning with limiting their authority to conduct certain actions, starting with traffic stops. "[I]t would require a complete restructuring of the society that we live in," she said. "It would require us to shift our priorities from responding to every form of need, conflict, and harm with agents of violence. … And so, it does require a radical reimagination of what we understand safety to be."6 Ritchie and other police abolitionists make the case that "safety is not produced primarily through force," and therefore, "police don't make us safer."7
WATCH: "Howard Prof. Justin Hansford & Abolitionist Andrea Ritchie on Tyre Nichols & Calls for No More Police," from Democracy Now!
Police abolitionist scholars have argued that the over-policing of Americans—disproportionately low-income people of color—has led to "the systematic mass incarceration of people of color in the United States," most directly through the War on Drugs.8 Alex Vitale explains that, as a response to the War on Drugs, the Los Angeles Police Department "developed specialized antigang units first known as TRASH (Total Resources Against Street Hoodlums) and later sanitized [renamed] CRASH (Community Resources Against Street Hoodlums)" in the 1970s.9 These specialized police teams became the model for later elite forces, such as the Memphis Police Department's SCORPION Unit (Street Crimes Operation to Restore Peace in Our Neighborhoods), five members of which have now been charged with the murder of Nichols.10
READ: "To Produce Safety, We Must Understand What Drives Violence," from Common Justice
With another high-profile police killing of an unarmed Black man, Americans are once again reconsidering what safety looks like and how police fit into that picture.
Discussion Questions
What does policing look like in your community?
How does your community feel about the police? Do most people you know trust or distrust the police?
What are some ways to reduce crime that do not involve law enforcement?
What do you think about the activists' call to defund the police? Why?
What do you think about abolishing the police? Why?
Possible Extension Activities
Have students research which cities have embraced defunding the police/abolishing the police policies and compare police budgets in those cities before and after 2020.
Ask students to compare the BREATHE Act and the George Floyd Justice in Policing Act. How are they similar? Different? Would students amend either or both? How?
If students are interested in going further, they can research police budgets and crime rates and consider if there is a clear correlation between increases in law enforcement spending and decreases in crime.
Further Reading
Mariame Kaba. We Do This 'Til We Free Us: Abolitionist Organizing and Transforming Justice. Haymarket Books, 2021.
Mariame Kaba and Andrea J. Ritchie. No More Police: A Case for Abolition. The New Press, 2022.
Danielle Sered. Until We Reckon: Violence, Mass Incarceration, and a Road to Repair. The New Press, 2021
Alex S. Vitale. The End of Policing. Verso, 2017.
Michelle Alexander. The New Jim Crow: Mass Incarceration in the Age of Colorblindness. The New Press, 2010.
Related Posts
Protests, Police Reform, and Civil Unrest
As always, we encourage you to join the discussion with your comments or questions below.
Sources
[3] Mariame Kaba and Andrea J. Ritchie. No More Police: A Case for Abolition. The New Press, 2022.
[8] Michelle Alexander, The New Jim Crow: Mass Incarceration in the Age of Colorblindness. The New Press. 2010.
[9] Alex S. Vitale. The End of Policing. Verso. 2017.