New Year, New Congress
December 18, 2018
---
Congress is adjourning for the holiday break and when it comes back in January, the new congressional class will be the most diverse in history. The November elections saw historic wins for women and minority groups that have lacked representatives of their demographics.
The 116th Congress will include several notable members:
There will be a record 125 women in Congress
Twenty-one percent of members will be black, Hispanic, or Native American
Sharice Davids (KS-03) and Debra Haaland (NM-01) are the first two Native American women elected to Congress
Davids is also the first openly LGBTQ person elected to Congress from Kansas
Veronica Escobar (TX-16) and Sylvia Garcia (TX-29) are the first two Latinas elected to Congress from Texas
Marsha Blackburn is the first female elected senator from Tennessee
At 29, Alexandria Ocasio-Cortez (NY-14) is the youngest woman elected to Congress
Ilhan Omar (MN-05) and Rashida Tlaib (MI-13) are the first two Muslim American women elected to Congress
Omar is also the first woman of color elected from Minnesota¹
A great infographic can be found here.
Although some new members of Congress have garnered quite a bit of news coverage (namely Ocasio-Cortez and her Twitter exchanges), the overall story of a more diverse Congress is yet to be written. The gains by Democrats in the House of Representatives, along with the increase in women and minorities, is already being dissected in terms of the next presidential election. Is the increase of women's engagement in politics a response to Hillary Clinton's loss in 2016? Will Democrats reconsider the mostly white, male candidates that are moving into the forefront for 2020? How will Republicans respond in terms of their engagement of women in their party?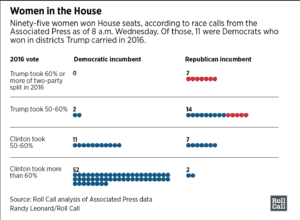 Political pundits have been continuously discussing "identity politics" since the last presidential election, but one new member of Congress has commented on the issue very succinctly. As reported in the Washington Post, Kendra Horn of Oklahoma stated, "I'm very excited to be part of this new class that looks a lot more like our communities."²
Is this then the essence of identity politics? For a representative body to "look" like the citizens they are representing? Or does this simply reduce politicians to their demographic data? Most of the newly elected members of Congress campaigned on identity issues and embrace their diversity. During the next congressional session, we will see how this translates to the world of policymaking.
Discussion Questions:
How important are a candidate's demographics to you? How important is it that a candidate has the same sex as you? Race? Religion? Social background? (A Take-A-Stand exercise would work well here.)
Do you think it is the role of government to promote or advance diversity and inclusion in elected office?
Some nations have national quotas for women and certain minority groups in elected office. Would this be appropriate in the United States? On a federal level? On the state level?
Sources:
Featured image: Freshman class of the 116th Congress, NBCNews.com; Mandel Ngan, AFP