Elia Quintana | Student 1993
July 9, 2021
---

Growing up in California's Central Valley as a first-generation migrant student, Elia Quintana never envisioned traveling far from home, let alone getting on a plane. But everything changed during her time at Arvin High School, when she was lucky enough to have two opportunities to attend Close Up programs in Washington, DC—once with her district's migrant program and once with her school. This was also a monumental moment for Quintana's mother, who had not allowed her daughter to attend sleepovers and had seen that all family trips were taken by car. Luckily, her mom knew and trusted the school's migrant advisor, and Quintana was given permission to make the 3,000-mile journey.
Although some of the details of Quintana's two Close Up experiences blur together, many moments stand out—fundraising at home in order to have spending money in DC, attending President Bill Clinton's inauguration, attending evening workshops with program instructors, visiting the city's iconic sites, and meeting new friends. (On her trip with the migrant program, she was the only person from her high school in the group!) More than anything, being in DC with Close Up opened Quintana's eyes to what she wanted to achieve as an adult. She noted that for many Latino families, staying close to home is expected. Close Up introduced her to the idea of spreading her wings beyond the Central Valley.
Quintana's wanderlust continued into her college years, when she double-majored in political science and Latin American studies at the University of California Santa Barbara and studied abroad. Her studies continued at the University of California Riverside, where she received a Master of Business Administration. Quintana's academics did not deter her from living abroad multiple times; she has called Italy, Costa Rica, Spain, China, and Mexico home at various times in her life.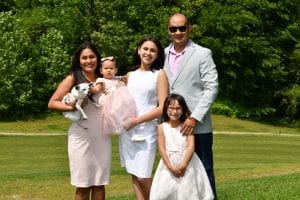 When determining how to turn her scholastic pursuits into a career, Quintana was interested in working in a field that would have an international impact, specifically at the intersection of community, global impact, and politics. She currently serves as the American Petroleum Institute's director of stakeholder relations, where she seeks to connect with communities of color and increase representation of those who are currently underrepresented in the energy industry. She now resides near Washington, DC, with her husband, Rob Rodriguez, their dog Doli, and their three daughters, Alani, Faith, and Victoria.
Close Up recently sat down with Quintana. 
What inspires you?
Growing up in Arvin, I was surrounded by oil fields but there was no one in my close circle working in the industry. The broader community did not have a lot of role models that looked like me (doctors, teachers, etc). This really inspired me to move into roles where I could do better about giving back to my community and be a voice for them through my leadership. I am optimistic we can grow our own talents here at home, to invest in tomorrow's leaders. We also need to realize that there are a lot of smart kids that just don't have the connections and resources others have, and we need to find ways to reach them all.
What general advice do you have for students?
First of all, pursue summer jobs and internships in related fields. Second, surround yourself with mentors to help you navigate career pathways. Look for people who don't look like you—someone who might have a different culture or background. This helps provide you with a different perspective. Finally, take risks! This is harder to do as you get older. Understand that it is okay to fail and just embrace this fear. You'll never regret that!
What is your favorite aspect about your job?
API works with over 600 member companies, representing over 11 million jobs in the U.S. alone. Our members supply the majority of the nation's energy. Within the next 10 years, we will see a lot of retirements, and the energy industry will need innovative and diverse talent to fill that pipeline. I get to work closely with our leadership, communications, and policy team to develop solutions that positively impact our communities (whether in workforce opportunities, STEM education, energy affordability, etc.). Younger generations want greener, cleaner energy. I love being part of an organization that is innovative about how we create cleaner energy solutions, while at the same time providing affordable energy here in the U.S., creating high-paying jobs, and ensuring people of color are equally represented in the industry.
How would you describe someone who would excel at this job?
You really have to be very entrepreneurial and a self-starter. I am constantly engaging with community stakeholders, so someone who is a people-person and is knowledgeable with the issues impacting underserved communities. You also need to be prepared to work with people in leadership positions in the private, public, and government sector. The news cycle changes too quickly these days; you need to be able to adapt and collaborate quickly with internal teams and external partners to develop a response. Most importantly, be able to think outside the box and enjoy collaborating with everyone.